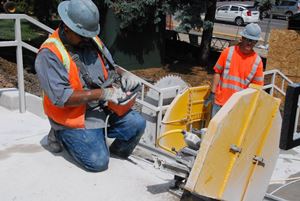 We provide all types of electric concrete sawing services, including electric slab or wall sawing. Our state of the art electric saws allow for sawing indoors safely and efficiently.  DeAndrea is 100% self-contained and provides all of the power that we need to cut any job requiring electric sawing.  If the work area is too far from our generators, then we can quickly hook into any building power from 110V 1Ph to 480V 3Ph electrical boxes.  Our innovative inverters can transform any building power to the power that we need to get any project done fast and safe.  We continually invest in the best equipment and technicians to quickly and cost-effectively handle any project. We routinely perform electric sawing service for:
Floors for plumbing and electrical trenches
Roofs for new vent openings or skylights
Basements
Hi-cycle Wall Sawing

Duct openings
Window openings
Elevator door openings
Enlarge existing man and overhead door openings
Egress windows to keep your family safe from fires

Suspended slabs for new stairs or elevators
Call us today to if you have questions or would like to receive an estimate.